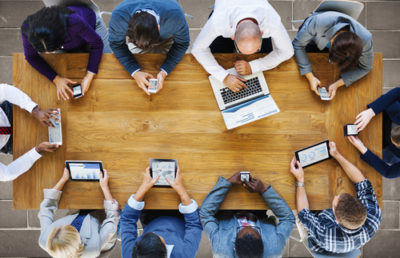 Social media and employment are indelibly intertwined these days, there is no doubt about it. In fact, they seem to become more intertwined on a daily basis.
It used to be that a person was concerned about what was on their social media accounts during their job search, when they were looking for a new job. They were worried about what their prospective new employer might think about what they found lurking on the pages of the Internet.
My, how times have changed. Now you must be worried not only about your prospective new employer, but also your current employer.
A hypothetical social media scenario
A few years ago, some people were afraid of Facebook and to a lesser extent Twitter. Or more specifically, they were afraid of how Facebook and/or Twitter might hurt them during their job search. After all, the Internet is full of sordid stories of how people lost either their current job or a prospective job because of what was on their social media account.
In fact, check out these "10 Social Media Blunders That Cost a Millennial a Job – or Worse," courtesy of TIME.com.
While Facebook and Twitter still present valid concerns, now LinkedIn has joined the party (no pun intended). And LinkedIn is the social media site that your current employer is more likely to be monitoring.
Okay, so let's run through a hypothetical scenario. You're conducing a passive, covert job search. As a result, you're sprucing up your resume. If you're sprucing up your resume, then you should be doing the same thing with your LinkedIn profile. However, you don't want to make wholesale changes with a barrage of updates all at once. That's like using a megaphone to scream, "I'm looking for a new job!" in the middle of your staff meeting.
No, you must be subtle in your approach. So you make your changes slowly, over time, so that nobody at your current employer notices what you're doing so. You go on some interviews and then eventually, you receive an offer of employment. You don't accept the offer immediately, but you plan to do so after some clarification and negotiation of terms.
Step-by-step success
So what's next? How do you handle this next step in your career on social media? Below are five steps for managing your social media accounts when changing jobs:
Step #1—Do not connect with potential future co-workers prematurely.
You know you're going to accept the offer. Heck, maybe you accepted it already. That does not mean it's time to connect on LinkedIn with everybody who works at your new employer. That's a red flag for anybody who's even casually monitoring your LinkedIn profile. There's no rush here. If your excitement is getting the best of you, then compile a list of all the people with whom you'll connect once you actually start working with them.
Step #2—Wait until you've given your formal notice before making a formal announcement.
This applies to all social media platforms, but primarily the "big three": LinkedIn, Facebook, and Twitter. Ideally, you would wait until you're done working out your notice before making any sort of announcement. But if you just can't conceal your excitement, then at least wait until you've told your current employer that you're departing. The last thing you want is for your immediate supervisor to find out on social media that you're leaving the company before you enter their office to tell them that you're leaving the company.
Step #3—Don't share any details of the new job until you are completely finished with your current one.
A simple announcement is one thing. (You don't even have to share the name of your new employer.) However, disclosing juicy details is quite another. Perhaps during the weekend following the end of your employment at your previous company and the start of employment at your new company, you can disclose additional details. These could include the name of your new employer if you haven't already disclosed that, as well as some of your job duties and responsibilities in a general fashion.
Step #4—Say nice things about your previous employer.
All throughout this process, no matter what information you're disclosing at whatever stage you're disclosing it, do NOT badmouth your previous employer. Sure, there are reasons why you're making this move, and perhaps the details are ugly. However, there is no good reason to "air dirty laundry" in public. Your previous employer will not appreciate it, and neither will your new employer. No hiring manager wants to find out that they've just hired somebody who is comfortable with disparaging their previous employer on a social media platform. No matter what happed at that employer, you can at least thank them for the opportunity they gave you.
Step #5—Make the full announcement and share all details after you've started your new job.
Okay, you've started work with your new employer. Say hello to a new beginning and good-bye to social media secrecy. Feel free to share all relevant details, including the job title, a more elaborate description of the duties involved, and all of your new contact information. On LinkedIn, of course, you'll be updating your profile accordingly and you may even consider sending an email that lets colleagues and contacts know the preferred ways to reach you going forward. (But once again, if you mention your previous employer, say nice things!)
Be proactive and intentional
There's a lot happening when you're changing jobs and many things of which to keep track. But how you handle social media during this time is extremely important. You don't want to let it "go by the wayside." If you've been proactive and intentional with your job search to this point—and if you landed a new job, chances are good that you have been—then you should be intentional with this, as well.
Social media is heavily ingrained into every part of our existence, including our professional lives. No matter which platforms you use and which ones you prefer, a misstep or mistake at any point could have disastrous effects on your career.
We help support careers in one of two ways: 1. By helping to find the right opportunity when the time is right, and 2. By helping to recruit top talent for the critical needs of organizations. If this is something you would like to explore further, please send an email to stacy@thevetrecruiter.com.