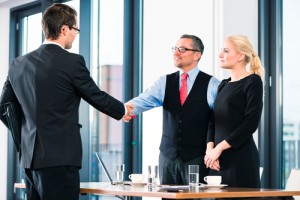 The interviewing and hiring process is filled with important parts, junctures at which the process can either fall apart or accelerate forward. One such part is the offer of employment.
Think about it: making an offer of employment is like making a marriage proposal. Neither are to be approached in a flippant fashion or executed in a careless manner. To do so would be to invite disaster.
That being said, some organizations unfortunately make many mistakes when it comes to this crucial part of the hiring process, and those mistakes invariably come back to haunt them. I've seen it happen many times during my nearly two decades as a search consultant.
This is such an important topic that I've broached it before, specifically with the article "6 Things Companies MUST Do When Extending an Offer of Employment." However, with this article, we're going to explore things you should not do.
Below are three things you should absolutely NOT do when making an offer to a candidate:
#1—Low-ball the offer.
Just because a candidate identifies a "minimum salary expectation" does not mean you should offer that minimum. Hiring top talent is not like shopping for electronics. You can't have the "get the most value for the minimum cost" mindset. It doesn't work that way. If a candidate is worth a certain offer, then make that offer. Resist the urge to low-ball them.
And basing your offer on what they're currently earning or have earned in previous jobs is just another way of low-balling them. Once again, make an offer that is commensurate with the value that you expect to receive from employing them. If you don't believe that you will receive tremendous value, then why are you making the offer in the first place?
#2—Underestimate the importance of benefits and other perks.
Benefits and other perks are more important than ever. In other words, candidates consider them when evaluating a job offer. They're part of the equation, which means you should make them as attractive a part of the equation as you can. This category of the offer includes, but is not limited to, the following:
Health insurance
401K
Flex time
Paid time off
Company car/expense account
Sure, the candidate is looking at the base salary, but they're also looking at these things. That's why you should, too.
#3—Wait too long to make the offer.
Your mantra with the offer should be, "Strike while the iron is hot." If this is a high-quality candidate, then chances are good that they're interviewing with multiple companies. That means they could receive an offer from one of your competitors at any time. If you wait too long to make your offer, then somebody else could "beat you to the punch," so to speak.
What's important to a candidate is that they feel wanted. If you've made them feel wanted all the way through the hiring process, then definitely make them feel wanted at the end of that process, during the offer stage. Dropping the ball here could mean fumbling the candidate away to one of your competitors.
Another important part of this discussion is this: if you're working with a search consultant, then you should absolutely allow them to make the offer to the candidate.
That's what the candidate is expecting, and that's what you should give them. Good search consultants have a higher success rate of getting the candidate to say yes than the hiring manager could have. The reason? This is what search consultants are trained to do and they do it on a regular basis.
For more information about this, please see "Why the Recruiter Should Make the Offer of Employment."
We help support careers in one of two ways: 1. By helping to find the right opportunity when the time is right, and 2. By helping to recruit top talent for the critical needs of organizations. If this is something you would like to explore further, please send an email to stacy@thevetrecruiter.com.